Reading Time:
5
minutes
The holidays are rapidly approaching.
Lots of gifts are available for the cat and/or dog lover.
But what about those who adore their pet chickens?
Well, as a chicken lover myself, all of the following items are on my own wish list. Hint. (Hint…hint. Friends and family, if you're reading this…)
Plus, most of these gifts can be given to the hen or rooster lover any time of the year. I
So, here we go:
1) Rooster lovers will probably go crazy for this brightly-colored, 26-inch rooster spinner from Premier Kites. Plus, unlike my actual roosters, I'm pretty sure this little guy is nice and quiet all day long.
For more information or to buy this product on Amazon, click here.
2) I love the rooster, but there are also two hen whirligigs available that are pretty darn cute:
The first is this 13″ by 17″ Buff Chicken Whirligig from Premier Kites.
For more information, visit this Amazon.com link.
3) This next whirligig is a black and white hen from Premier Designs.
She's 12 x 16.75 inches, and actually reminds me of the newest chickens to join my flock. As a matter of fact, today one came half running and half flying across the yard and she actually looked so much like a whirligig, I had to laugh.
For more information about this whirligig, click here for the link to this product on Amazon.
4) This Pielapa Christmas Chicken Flag has a really cute double-sided hen decoration. It's available in small and large sizes. Small is 12.5 x 18 inches and large is 28 by 40.
Both this flag and the second spinner above remind us of our two beloved Rhode Island Red hens. They are the hens we have had the longest and, over the years, I have learned a lot about how much personality chickens have from them and their accompanying rooster. Below is a photo of the three of them enjoying a dirt bath in one of their favorite spots, next to the tree near the house.
For more information or to order the flag on Amazon, click here.
5) There are a number of really cute mailbox covers out there, but chicken lovers with a sense of humor will likely get a smile every day when they go to their mailbox via this one.
The design is from Tidyki. This fun cartoon chicken drawing mailbox cover is a magnetic wrap that comes in two different sizes, so you might need to somehow measure the mailbox of the person you're buying it as a gift for before you order it without them seeing you or ask them what size their mailbox is without them getting suspicious.
Either way, this little guy is so cute, it's probably worth the trouble. For more information, or to order on Amazon, click here.
6) A more serious looking rooster, complete with stunning colors, is the subject of this vinyl mailbox makeover cover, which fits standard sized 6.5″ x 19″ postboxes. 
For more information, or to purchase on Amazon, click here.
7) There are also a lot of rooster statues out there, but this guy just seems really unique in his design. This guys is a Tooarts Metal Sculpture Carved Iron Rooster Home Furnishing. Based on the reviews on Amazon, most people choose to keep him indoors, but some do display him outside. One person even had him up on the roof of a barn, which looked very cute. But, I would definitely keep him inside so he stayed nice and shiny.

For more information or to purchase this rooster statue on Amazon, click here.
8) And, finally, this little guy, a tin rooster nightlight from Country Home Collection, for brightening up even the darkest of nights.
He's 7 x 6 x 2 inches. For more information, or to buy on Amazon, click here.
I hope these will make the chicken lover in your life crow with delight!
Featured photo: Daniel Tuttle on Unsplash
---
Related posts:
---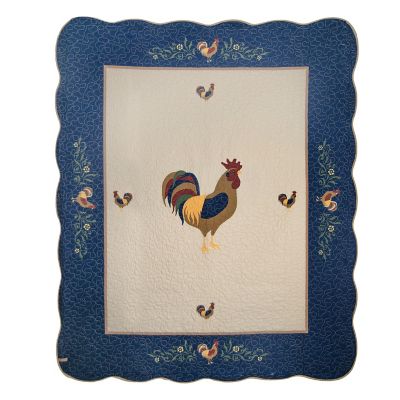 Donna Sharp Brunswick Rooster Throw, 60510
Donna Sharp Brunswick Rooster Throw, 60510 [More]
Price: $79.99